Data discoveries
Winners, losers and lessons from E3 2019
The 2019 Electronic Entertainment Expo (E3) is behind us and in its wake, gamers worldwide have been left with a host of games and consoles to look forward to. Although the event's importance may have diminished in recent years, E3 still the biggest event of the year for the games industry, where publishers and developers will set the stage for their upcoming releases and product launches for the next year and beyond.
At MiQ, we're excited for the event, both as gamers and advertisers. As gamers, we're eager to get our hands on some of the new games that were announced. As advertisers, we're eager to see how this year's announcements will affect sales and excitement leading into the 2019 holiday season.
Schedule of Streaming Events From E3 2019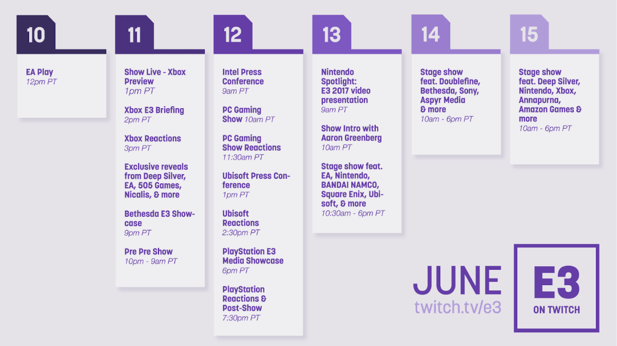 OTT and Mobile viewing
What games got the most views? Console streams? Mobile?
As a private event for press and industry insiders, the only way to watch E3 coverage is typically through streams and announced content will typically be immediately posted and viewed online by ravenous fans.
Online streaming stats across Twitch, Youtube, Facebook, and Mixer Streams:

CD Projekt Red Goes Viral
Despite some controversy around the game due to some bad social media mishaps on their part, CD Projekt Red scored big at E3 this year with their new trailer for Cyberpunk 2077, an action RPG that it was revealed would feature actor Keanu Reeves in a major role. They followed up the reveal during the Xbox presentation with an appearance by Reeves himself, who spoke quickly about the game and announced the launch date. The move paid off, immediately generating viral content around Reeves and helping spark interest in the game. Cyberpunk 2077 was the most-discussed game of the show, and generated more preorders than any other announcement.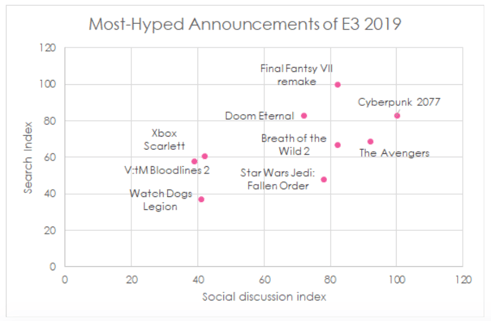 Sony's Big Gamble
One of the big stories at E3 2019 was Sony's decision to not participate in the event, instead opting to find other opportunities for announcing their new console and games. In prior years, Sony has typically presented after Microsoft, and notably has generated fantastic buzz over the last console generation with its PlayStation4 announcements. But did the decision pay off?
There was certainly something of a drop in excitement for this year's event. While Microsoft again had the most-viewed presentation of the event, they pulled in fewer viewers on Twitch than they did one year ago, a trend that was echoed by EA, Ubisoft, and the PC Gaming Show. There's a case to be made that by stepping back, Sony left the party at the right time, and saved money on an event that some feel is now in decline.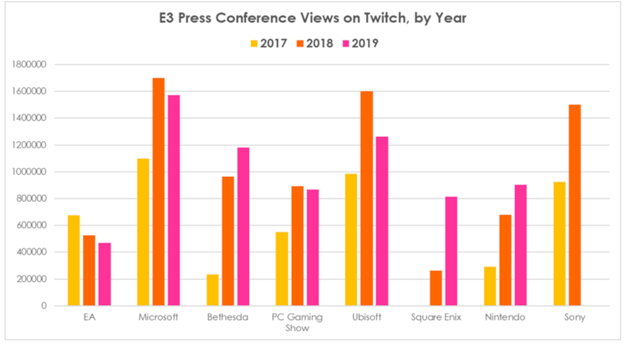 Even trailer hype appears to have decreased this year: This year's most-viewed trailer, for Cyberpunk 2077, notched 21.3 million YouTube views in the first week following E3, less than both last year's top-viewed Fallout 76 trailer (39.2M views) and the 2018 Cyberpunk 2077 trailer (22.4M views). Trailer views were just down on the whole compared to last year, regardless of console or platform.
On the social front, chatter and sentiment around Sony and the PlayStation Brand seemed to mirror last year's arc, suggesting that Sony may not have missed out on much social activity by not being present as the games announced for its platform by other companies did just as much work.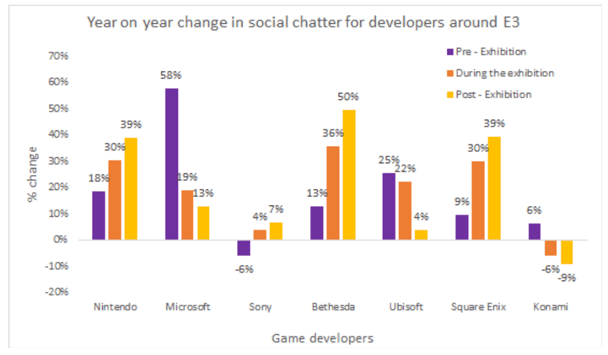 It's also likely that Sony's yet-unannounced PlayStation 5, which like Microsoft's Xbox Scarlett won't launch until Fall 2020, isn't in a place where Sony is comfortable announcing it (the Scarlett preview itself felt a bit premature). It could be more valuable to them to wait to announce the console and their upcoming games at a future event of their own design.
The case against abstaining
On the other hand, even with declining viewership compared to last year, it's hard to deny the overall impact of E3 for publishers: More than one million unique viewers tuned into the Microsoft stream, and even with a small decrease in viewers, Sony still likely missed out on more than one million enthusiasts live streaming their presentation.
Additionally, Sony's absence means that their primary competitors were allowed to essentially go unchecked at the event, and even though upcoming PlayStation releases were shown, Sony didn't have the opportunity to underline their console's exclusives, timed or otherwise. The net result is that while Nintendo, Microsoft, and Square all saw boosts in their popularity and positive sentiment as a result of the event, Sony stayed relatively flat in comparison. Sony also didn't benefit from a bump in positive sentiment during the week that rivals Microsoft and Nintendo saw and in fact saw an increase in negative sentiment around its PlayStation 5 console during the event.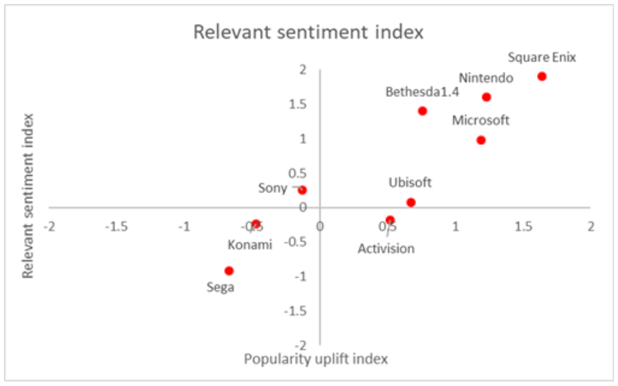 Overall, we're not convinced it was the right move.  Sony left a lot on the table and it's not clear that they'll get the same push from a separate announcement later.
Microsoft's New Console
Microsoft made the first move in the next generation console war with Sony, announcing their next-generation Xbox console – currently called Xbox Scarlett – at the end of their Sunday presentation. Overall sentiment for Microsoft's presentation appears to be positive, but little was shown or said about the new console, which won't release until fall 2020. Social sentiment and search interest for the Scarlett both increased during the event, giving the Scarlett a brief edge over the PlayStation 5. Post-E3, search interest for the Scarlett declined compared to the PS5, but social sentiment has held steady, suggesting that the early announcement at least put Microsoft's console on equal footing buzz-wise with the PS5.
Regardless of the reception, Microsoft has an uphill battle ahead of it. After an immensely successful run with the Xbox 360, Microsoft found itself chasing Sony for the entirety of the last generation, selling only an estimated 41 million Xbox One consoles to Sony's 96.8 million PlayStation 4 units (comparatively, the Xbox 360 and PlayStation 3 came out relatively even in total sales). The higher price tag of the Xbox One and the lack of exclusive titles hurt the console significantly, and Microsoft will need to make it clear that the Xbox Scarlett is a gamer-first console if they want to compete with Sony in the next generation.
Nintendo Crushes It
After an incredibly disappointing run with the Wii U, Nintendo righted the ship with the Switch, which has proven to be incredibly popular and has already sold 35 million units in its first two years on the market. While Microsoft and Sony ramp down their announcements and schedules for the current generation in order to focus on their next consoles and 2020 releases, Nintendo is well-prepared to own the 2019 holiday season with a spate of strong announcements and hotly-anticipated games and DLC.
The payoff was immediate: Nintendo saw among the highest bumps in views and positive sentiment during and after E3 2019. Breath of the Wild 2 immediately became one of the event's most buzzed-about announcements, and the event set Nintendo up to clean up this holiday season as the only console manufacturer not looking ahead to the next platform.
Taking Advantage of This Data
Each year, E3 sets the stage for the following holiday season, creating hype around upcoming releases and giving gamers a first glimpse of the entertainment they'll be lining up to buy or putting on their wish lists when Christmas rolls around.
For advertisers, reaching gamers effectively can be a daunting task: "Gamers" is a broad concept in 2019, encompassing people from every age, gender, and background, and across more than half a dozen different platforms. To help advertisers plan for the season, we've put together some handy tips and lessons from E3 to think about.
"Gamers" doesn't refer to a single demographic
It can be tempting to think of gamers as men between the ages of 18 and 34 shouting at each other while playing shooters online, but this idea is firmly rooted twenty years in the past. Today, the majority of people who play games are women, and gamers include a large number of parents who grew up playing games themselves. The demographics of the gaming audience you're trying to reach will vary based on the game you're trying to sell and the platform it's on.
Even console gamers vary by brand
The more traditional ideas about gamers are more likely to apply to console gamers, e.g. consumers who own an Xbox One, PlayStation 4, or Nintendo Switch, but even among these consumers, demographics aren't so simple. Online, console gamers skew only slightly male, and Xbox/PlayStation 4 owners, skew older than Nintendo Switch owners, tending to be between the ages of 25 and 34.
OTT should be a key part of any digital strategy aimed at gamers
Regardless of their platform, gamers share a common trait in overindexing to the consumption of OTT media. This is partly by design: The consoles themselves are OTT devices, and as such become excellent vehicles for advertisers looking to drive engagement for new games in the existing environment. OTT and connected TV should be a cornerstone of any gamer-focused digital strategy.
Connect your TV, Digital, and Mobile efforts
Gamers overindex not just to OTT viewership, but ownership and use of mobile devices as well. Advertisers looking to drive engagement among gamers, whether it's for a new release or in-game content, need a strategy that can connect their digital display assets to TV advertising through connected TVs, OTT, and mobile activity and location data.
Know what you're up against
One of the benefits of E3 for advertisers is knowing exactly what you'll be up against. You may not be able to predict the next Fortnite, but at the very least you'll know which games are likely to be vying for your audience's attention at the same time, allowing you to plan accordingly.