Data discoveries
What CPG marketers need to know about COVID-19
The unprecedented spread of COVID-19 is causing changes in the way people live, the way they shop and the way they interact online. And those changes are happening quickly.
We want to keep you as up-to-date as possible with what's going on – the insights we're seeing across the world, the new trends in consumer behavior, and the lessons advertisers and marketers need to learn at lightning speed – so you can stay informed, adapt your plans, and respond to what's happening in your market.
In this episode of Insights Track, Will Green, Senior Content strategist and Robert Jones, VP Research and Insight, are joined by guest speaker John Goulding, US Head of Strategy to talk about CPG and FMCG and the impact the pandemic has had on grocery stores and retailers selling these goods. We look at who's buying online and who's still going to the store, and how we expect consumer behavior to shift as a result of the pandemic.
Listen to the Insights Track podcast on Spotify or Soundcloud.
COVID-19 HAS ACCELERATED THE MOVE TO ONLINE SHOPPING FOR GROCERIES AND OTHER CPG GOODS
Prior to the outbreak, nearly half of consumers were buying CPG products online (49% in the US, with similar proportions in the UK and Canada), and while the majority of this online shopping is from younger consumers, adoption among P55+ had been steadily increasing. As people are being asked to stay indoors and avoid public spaces and gatherings, that timeline has accelerated, with 9 out of 10 consumers avoiding a trip to the store in favor of online orders. The result is a tenfold increase in search interest around online grocery shopping and a 30% increase in online sales for grocery products.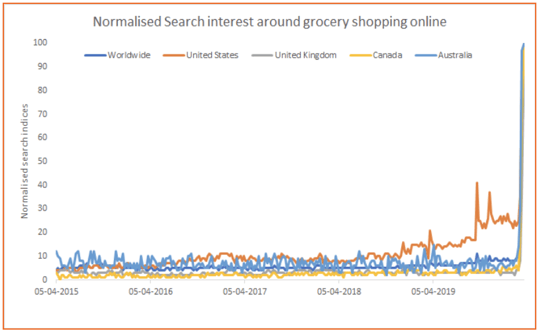 This will likely have long-term impacts. Prior to the massive disruption caused by the pandemic, ecommerce spending was projected to account for about 5% of total sales in 2020. Now we expect that figure to jump to 11%.
SHOPPERS ARE GRAVITATING TOWARD NON-PERISHABLE FOODS AS THEY PREPARE TO HUNKER DOWN.
For many people, the increased anxiety and need to avoid visiting a grocery store means an increased demand for non-perishable goods like canned food, ready-to-eat meals (MREs), frozen food, and beverages. Interest in non-perishable food goods has grown by 40% over the last three weeks. And anyone experiencing the widespread toilet paper shortages can already attest to the fact that demand for sanitary products like hand sanitizer, liquid hand soap, and toilet paper has also skyrocketed.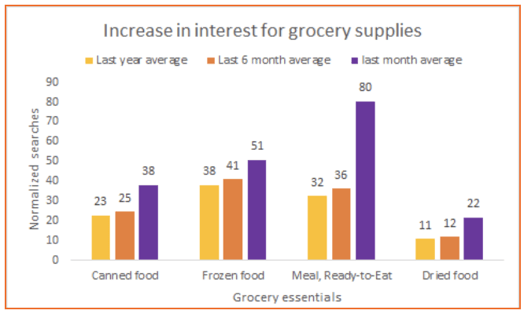 BEAUTY AND SKINCARE PRODUCTS AREN'T SEEING THE SAME BOOST.
In contrast, interest in clothing and apparel and beauty and skincare products has dropped by nearly 28% over the past three weeks. We've also seen further declines – 39% – for premium apparel and jewelry brands as more consumers have become focused on essentials.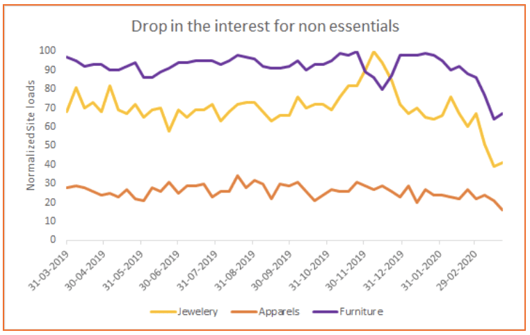 OLDER SHOPPERS ARE GETTING IN ON THE ACTION
While younger consumers still make up the bulk of actual shoppers buying groceries online post-outbreak, older consumers are now being forced to change their habits, leading to new shopping patterns. Online shopping for groceries and CPG products increased 20% in March compared to prior months and was up 30% for P65+.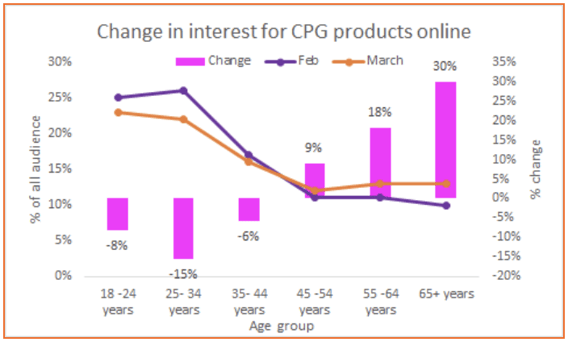 BRICK AND MORTAR STORES SUFFER
After a brief upward trend in early March, foot traffic for retail and department stores in the United States and Canada has fallen dramatically over the last few weeks, with some stores seeing as much as a 70% reduction in foot traffic as concerns around the virus have escalated. These declines have been the most pronounced for department stores, which have been deemed non-essential in many states and forced to close, while others, like Kroger grocery stores, have seen only a 6% decline in foot traffic.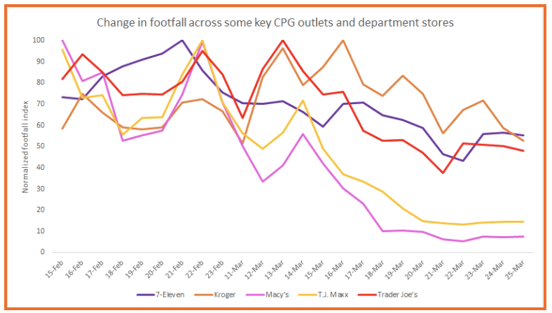 SHOPPERS ARE MAKING FEWER TRIPS, AND THE TRIPS ARE SHORTER
In addition to decreases in foot traffic, time spent at stores has also decreased as consumers seek to make their purchases quickly and leave. As a result, a larger proportion of shoppers now spends fifteen minutes or fewer during their visits to convenience stores and supermarkets compared to last month. Similarly, consumers are much more likely to order take out and spend less time dining out, with a 16% drop over the last week in the number of people who spend more than 30 minutes at a restaurant location.

We can see this most starkly when we look at the observed behaviors for a popular QSR chain in Canada, where as the number of people dining in had nearly halved last week, take-out orders had decreased only 23%.

ADVERTISERS ARE THINKING LONG-TERM
As consumer habits change, advertisers are thinking long-term. In a recent study by Advertiser Perceptions, a survey of agency professionals and marketers showed that more than two thirds (68%) believed that the Coronavirus outbreak would continue to impact ad spend into 2021. As consumers shift their habits and move to online, brands are also looking for was to meet those consumers online and engage with both regular customers with new needs and new customers making their first forays into online shopping. The brands that weather this storm successfully will be those that can tap into consumer needs while maintaining an image of compassion and respectability.
If you want insights like these delivered straight to your inbox, subscribe to our insights mailing list.