Data discoveries
Icc cricket world cup 2019 a look at the Australian audience
We haven't even got to the knockout rounds, but the 2019 ICC Cricket World Cup in England is already smashing viewership records across the globe. Star India network reported more than 315 million impressions recorded in the first two weeks of the tournament, with a total of 166 million people watching the India vs. Australia match on June 9th. Viewing continued to heat up as 229 million viewers tuned in to watch the India-Pakistan match.
Excitement for the tournament has been notable in Australia, where the match between Australia and Pakistan captured an audience of 380,000 viewers and a 10.7% share. More than 613,000 viewers have tuned into Fox Australia's cricket coverage over the first seven matches of the tournament, averaging 88,000 per game.
ONLINE EXCITEMENT CONTINUES TO INCREASE
This excitement has extended into the social realm, where the match between England and Australia was the most-followed game by Australian Cricket fans on Twitter to date, drawing seven times the social chatter of any other match Australia have played. Online, the Indo-Pak rivalry was the most followed game of the tournament by Australians to date, with 103,000 fans looking up scores during the game on domains like 'espncricinfo' or 'cricbuzz' (a consequence of the World cup licensing agreement that ensues that game was only available on Foxtel's paid TV service).
Seven out of 10 World Cup-related searches online occur on mobile devices, as people check the scores on the go. On average, advertisers have four to five impression opportunities per day to reach these fans on match days, but that number increases to nine opportunities per day when Australia is playing.
The time difference between England and Australia makes it difficult for even the most hardcore fans to keep up with the entire match, which may contribute to some further declines in viewership online and in traditional TV when paired with paid subscription requirements. That said, for important rivalries, they'll make an exception, Over 500,000 viewers tuned in to watch the latest chapter of the Australia-England rivalry on 9network, with an additional 360,000 tuning in on Fox.
SEARCH LIFT FOR AUSTRALIAN CRICKET-RELATED SEARCHES BY DAY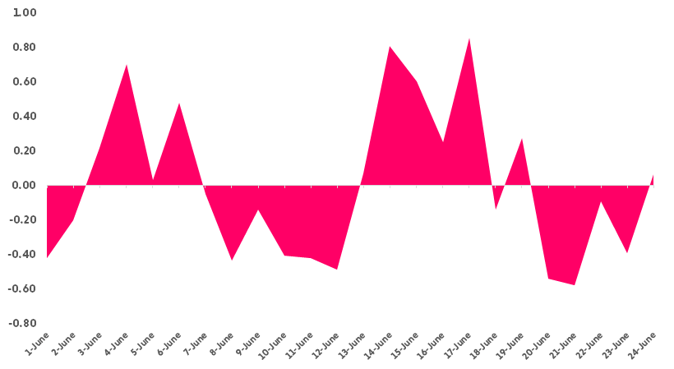 Surprisingly, Australian search interest for World Cup-related content peaks on days when the team isn't playing, though the type of content being searched and read online varies in conjunction with the Australian team's schedule. 73% of fans read reports and review stats on match days when the Australian team is playing, while on off-days when other teams are playing interest shifts to live scores for those events, making up 63% of searches.
The Australian team's performance also tends to set the mood of the Australian audiences on social platforms. Social interactions peak – increasing by around 400% – on game days, but sentiment varies wildly. Positive sentiment can increase as much as 23% around the team when they win.
SOCIAL SENTIMENT FOR AUSTRALIA'S TEAM, BY DAY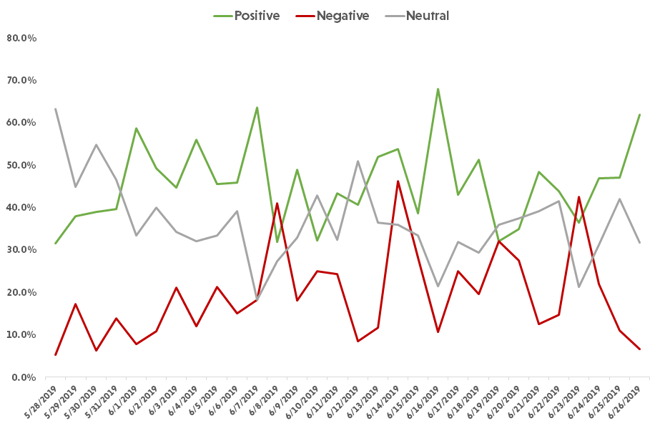 By geographic region, New South Wales and Victoria house the most cricket fans, and seven out of 10 related searches comes from one of these two provinces. Sydney and Melbourne account for almost 60% of the cricket TV viewing audience by themselves, though fans in Adelaide and Perth tend to be more engaged, with 60% watching through the second half of the game against England.
CRICKET POPULARITY, BY REGION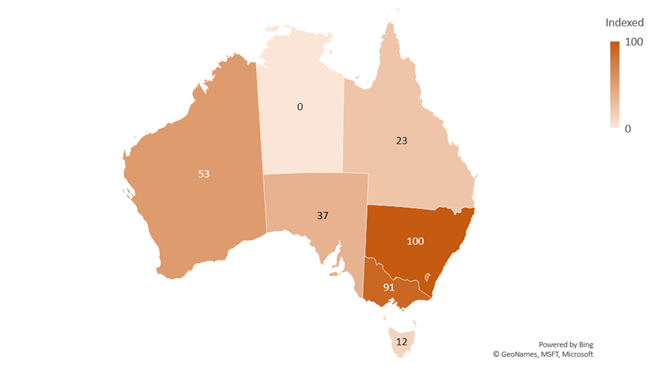 Note: This is a relative index based on an aggregation of social and search activity
TV VIEWING BY METRO, AUSTRALIA vs. ENGLAND
| | | | |
| --- | --- | --- | --- |
| REGION | ICC CRICKET WORLD CUP 2019 AUS V ENG -S1 | ICC CRICKET WORLD CUP 2019 AUS V ENG -INNINGS BREAK | ICC CRICKET WORLD CUP 2019 AUS V ENG -S2 |
| 5- Metro aggregated | 507,000 | 282,000 | 195,000 |
| Sydney | 120,000 | 44,000 | 36,000 |
| Melbourne | 184,000 | 100,000 | 65,000 |
| Brisbane | 74,000 | 33,000 | 23,000 |
| Adelaide | 62,000 | 44,000 | 26,000 |
| Perth | 67,000 | 61,000 | 46,000 |
LOOKING AHEAD 
As we head into the knockout rounds, fan excitement for the World Cup should continue to increase, creating even more opportunities for advertisers to reach engaged fans. For Australian marketers, being there when the team wins can lead to the creation of strong positive sentiment that can pay off down the road. Knowing where and how to reach fans in those moments is a piece of the puzzle we can help solve.